---
70.
----- Original Message -----
From: Patricia Baron
To: narodowa@narodowa.pl
Sent: Friday, September 09, 2005 5:12 PM
Subject: You have received photos from Adobe Photoshop Album 2.0 Starter Edition


Could someone please translate this for me? I am researching the Baron family who I have found on microfilm @ LDS in Par. Pazckow from as early as 1723 thru 1818.
I have a Louis Baron who is in the military as a musketeer, Aloysi Baron, who is also in the military, Capt. Sidow company, and the last name is Anton Baron who married Josepha Koschwitz or Kuschwitz. This Anton is our direct ancestor.

Also, If anyone could explain to me where I can find land records, military records, residential records, and the registry that residents had to complete to move from one city to another, from that same time period. I emailed the Wrocklaw Archives but did not receive an answer. We are planning our trip to Poland for next September for genealogy. We want to be able to go to the places where my husbands family lived, worked and played.

Thank you so very much,
Patricia Baron

The sender has included tags, so you can do more with these photos. Download Photoshop (R) Album Starter Edition-Free!
http://www.adobe.com/aboutstarteredition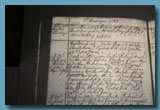 (Please click on the photo to enlarge)
---
69.
----- Original Message -----
From: <"Magroski"> Brazil
To: "Tadeusz" narodowa@narodowa.pl
Sent: Friday, August 26, 2005 3:27 AM
Subject: help with a brief russian translation > PolGenForum Search Room...


Dear forum,

could you help me identify the following data on the attached certificate?
- name of the deceased person. I read Katarzyna. Is it right?
- how old was she?
- who were her parents? (is her mother´s maiden name included?)
- if married, who was her husband?

Thanks.
Gilberto `Marpobckiu`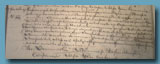 (Please click on the photo to enlarge)
---
68.
----- Original Message -----
From: Annamari & Tom Miles
To: narodowa@narodowa.pl
Sent: Friday, August 19, 2005 7:02 PM
Subject: Need help reading passport documents > PolGenForum Searching Room...


These copies are from my great-grandfather's passports. He had one in Polish and one in either Russian or Ukrainian.

On the passport I'm interested in knowing the city/district/place he lived or was born. I cannot decipher the handwriting.

The two unknown documents were folded and placed inside of the passport. A translation of these would be really helpful. We know nothing about my g-grandfather's life before he came to Canada or any other family members.

Thank you to anyone willing to help me. The family would be forever grateful.

Sincerely,
Annamari Miles
(Please click on the photo to enlarge)
---
67.
----- Original Message -----
From: SERGIO
To: narodowa@narodowa.pl
Sent: Tuesday, July 19, 2005 6:12 PM
Subject: upload to the GenForum

Could anyone help me with these letters written in Lithuanian?
(Please click on the photo to enlarge)
(Please click on the photo to enlarge)
---
66.
----- Original Message -----
From: "SCOTT STEFANSKI"
To: < narodowa@narodowa.pl >
Sent: Sunday, July 17, 2005 3:17 AM
Subject: HELP WITH MARRIAGE RECORDS


HELLO

I WAS WONDERING IF YOU CAN HELP ME TRANSLATE FROM LATIN TO POLISH THE NAMES
OF THE PARENTS FOR THE GROOM AND ALSO I CANNOT MAKE OUT THE LAST NAME FOR
HIS MOM
CAN ANYBODY HELP ME

THANKS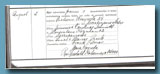 (Please click on the photo to enlarge)
---
65.
----- Original Message -----
From: Sharisa.WM.Hansond
To: narodowa@narodowa.pl
Sent: Sunday, July 10, 2005 12:35 PM
Subject: More Information - Potrotz/Dombroski Family

I have just received this information today.
If any one knows about any of these people i sure would love to here from you.
Thank you so much
Lisa
(Please click on the photo to enlarge)
(Please click on the photo to enlarge)
---
64.
----- Original Message -----
From: "Edward Justin Modestino, M.Phil."
To: < narodowa@narodowa.pl >
Sent: Sunday, July 10, 2005 1:02 AM
Subject: Polish documents

Hi,
I received the attached documents from the archives in Vilnius about my
Bielawski ancestors in Polish. I know it is from the GDL Tribunal of 1720.

My Bielawski ancestors were originally from Karczew and Sobiekursk, in
Czersk, Warsaw, Poland. However, they moved to the GDL, places that are
now in modern Belarus and the Republic of Lithuania around 1720.

I am interested in getting a translation of this document. It may help me
piece together the family tree. I cannot figure out how this Jerzey Karol
Bielawski fits into the family tree, despite the fact that he and this 1720
tribunal are both specifically mentioned on a Confirmation of Nobility from
1819 from Wilno (Vilnius) of my Bielawski ancestors. A full translation of
this document may help me piece him and his brothers into my family tree.

I cannot get any better images than this. The Tribunal book is very large
and thus since it is bound, the inner margins of text close to the binding
cannot be read easily.

Please contact me if you can help me with this.

Thanks in advance,
Ed Modestino
(Please click on the photo to enlarge)
---
63.
----- Original Message -----
From: "Ute Schoenwetter"
To: < narodowa@narodowa.pl >
Sent: Tuesday, July 05, 2005 11:03 AM
Subject: Polish document


Hi,
I received the attached document from a family member. It refers to my
greatgrandparents Jakob Szot and Agata Obryk and their children in Blazkowa,
Poland. My grandmother Julia Szot was their first born child. I would be
particularly interested in knowing what the remarks on the right side in the
last column mean as well as in my greatgrandfather Jakob Szot´s religion (it
looks like rz or oz) on top in column 4.

Thank you very much in advance.

Sincerely,
Ute Schoenwetter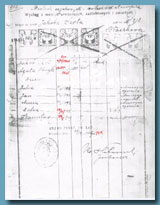 (Please click on the photo to enlarge)
---
62.
----- Original Message -----
From: Lisa Bond
To: narodowa@narodowa.pl
Sent: Wednesday, June 29, 2005 4:51 PM
Fw: Poland Genealogy Forum Help Room at http://www.narodowa.pl


I am a decendent of Dombroski and Funk, who came over to New Zealand on the frizreuter in approx. 1880s I think his name was Anton and the rest of his family went on to America. My greatgrandmother was Barbara Potroz and my Greatgrandfather was Joseph Dombroski. My Grandmother Joyce Dombroski. I am wondering if I have any one in my family blood line still living in Poland and how can I find this out?

My nana Joyce loved answering family questions i had but before i got our family tree she past away, So im now a little lost. I have a few different blood lines, but the polish line was the one i was interested in mainly because nana and her family were very close, my great nana lived with my nana(and she spoke polish) and they kept with all of the polish ways when great nana was still alive, she even took in a family of polish emigrants ww2.
I was always lead to believe nana was full blooded polish, my mother wouldnt even acknowledge her english side (nana married an english man). And that they came from Warsaw. I was also made aware that the spelling of dombroski would most probably been dombrowski or dobrowski.
Well when i studied the family tree, which goes right back, I noticed that my great great grandmother was in fact German, and mum not really wanting to talk ablout that. So in fact i find out that i have less polish blood than what i thought. But thats not holding me back to know all i can about my polish family and bloodlines, so my children and the generations to come will know at least the truth and have a sense of belonging to one of there bloodlines.
Now the family tree - i am not sure if its true that we come from warsaw.
In poland in the last 1700s early 1800s Mathias Dodunski married Katharina Lipszczonka.
They had 3 children - Barbara married Martin Potroz (My Line)
Michael married Katharina Lipner in 1860.
Mathias Gabrial married Apollonia Drozdowski
Barbara and Martin had 5 children - Anton being the second eldest- he married Josephine Funk (pronounced Fonk) (The german bloodline breaks the polish line) They had 13 children 5 born in Poland, one -Franciska was born on the fitzreuter in 1880s on way to New Zealand and 7 were born in New Zealand, the 4th youngest being Barbara my great grandmother born 1887. she married a full blooded polish Joseph Dombroski in 1905. They had 10 children my nana being the 2nd to youngest. She married an english man (another break in polish blood line).Walter Leigh Parker.

now the rest of the family didnt end up in New Zealand they went to America, i was told there was only the one family of Barbara and martin, which was anton and Josephine and children that ended up in nz, not realising that was where they were going to end up. I have a photo of Anton and Josephine and 3 children taken while in Poland. I would really love to know if our blood line was still going stong back in our home land, as one day id like to place my feet on the my home lands ground and meet my relatives, in hope my children can keep our Polish bloodline alive and real by getting to know them, as the fact is Our polish bloodline is getting less and less as the generations go on. and wish i knew what i do now a long time ago, because my polish family is very special to me and there arent many of the elders of my family still alive, so its up to me to do the best i can to keep it going.

Thank you again
Lisa Bond

=======================================
one of nana Barbaras brothers. dont know which one?
I forgot to say about photo with the photo of nana and refugee. It is nana Barbara with one of her sisters. not sure which one?
(Please click on the photo to enlarge)
Great nana Barbara with sister, - nanas father Anton

nana barbaras sister poss Franciska. and nana barbara with sister mary

nana barbara and yersey (i think thats the spelling)one of the family of 4 polish family refugee nana took in after the ww2

martin we think. Nana Barbaras brother

Dodunski family tree

family tree

Josephine funk and Anton Potroz with children poss.mary and Jakub.taken in Poland early to mid 1800
(Please click on the photo to enlarge)
---
61.
----- Original Message -----
From: Donna Piasecki
To: narodowa@narodowa.pl
Sent: Friday, June 24, 2005 7:42 PM
Subject: translation needed


Can anybody help to please translate this letter?

Donna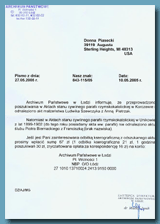 (Please click on the photo to enlarge)