---
30. ANSWERED on genealogy forum! - www.genforum.genealogy.com/poland/
----- Original Message -----
From: Kris
To: narodowa@narodowa.pl
Sent: Friday, May 21, 2004 5:01 AM
Subject: Passenger list

Hoping someone can help with me with this translation. This is a copy of my great-great-grandparents passage to the United States from Germany. I am new with the scanner, so hope this turns out OK. Thanks- Kris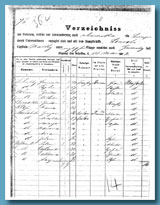 (Please click on the photo to enlarge)
---
29. ANSWERED on genealogy forum! - www.genforum.genealogy.com/poland/
----- Original Message -----
From: BOBLORNA1@aol.com
To: narodowa@narodowa.pl
Sent: Monday, June 14, 2004 8:11 PM
Subject: BILLA PRUO(A) KIM.TIF


Katarzyna ? wife of my ancestor FRANCISZEK RAN'CZUCH (and possibly him), was born in Bialla, Pruokim Poland. I am trying to find more about them.

A researcher from Salt Lake City found it. I am searching RAN'CZUCH who was born there or married there 1780. Thanks again! Also searching BAST,and STRAUSS.

Thanks for your assistance.
Lorna
(Please click on the photo to enlarge)
---
28. ANSWERED on genealogy forum! - www.genforum.genealogy.com/poland/
----- Original Message -----
From: Tina Ellis
To: narodowa@narodowa.pl
Sent: Monday, June 07, 2004 4:11 PM
Subject: Death Record Franciszka Niemczyk-Dorochowicz

I have another Russian record, for which I need a translation. If you can post it to your website, I would appreciate any help I can get with it. This may be a little difficult to read because when they took the photo of this record, what was on the previous page bled through to this side of the document.

This is the death record for Franciszka Niemczyk-Dorochowicz of Wolownia. She died in 1877. What I would like to know are these items:

Franciszka's date of death.
The witnesses, their ages and where they lived.
The relationship of the witnesss, if given.
The age of her husband, Franciszek.
Her age at the time of death.
The house number, if given
Her parents names, if given. I don't see anything that looks like they were given.

Thank you very much.

Tina Ellis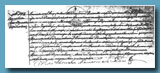 (Please click on the photo to enlarge)
---
27. ANSWERED on genealogy forum! - www.genforum.genealogy.com/poland/
----- Original Message -----
From: Tina Church
To: narodowa@narodowa.pl
Sent: Saturday, June 05, 2004 7:11 AM
Subject: Mail.PDF

Hi, Hope this works. This is my paternal grandparents marriage certificate, it is the second part. Grandfather is Antoni Adamczyk, his wife is Marcianne (?). I'm trying to get opinion on Marcianna's maiden name, parents names and town where they were baptized. Printed part is Latin which I'm not familar with. Interesting is a witness Markiewicz which is close to Mackiewicz, my maternal grandmothers surname.
They ended up living a block away from each other years before my parents met.
Appreciate your help. Kristie from genforum.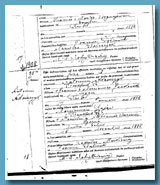 (Please click on the photo to enlarge)
---
26. ANSWERED on genealogy forum! - www.genforum.genealogy.com/poland/
----- Original Message -----
From: "Magroski" <
To: <narodowa@narodowa.p l>
Sent: Thursday, June 03, 2004 2:08 AM
Subject: What's in column 11 and 16?

Hi, All Froum!
This a ship manifest from Ellis. Please, look at line 4. What was his final destination (column 11)?
What's his brother's name, Franz or Tony? What was his brother's address, 334 Cherry or Chevvy, H.(Heights?)

Thank you.
Gilberto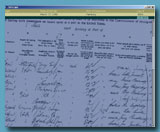 (Please click on the photo to enlarge)
---
25. ANSWERED on genealogy forum! - www.genforum.genealogy.com/poland/
----- Original Message -----
From: Matt Edinger
To: narodowa@narodowa.pl
Sent: Wednesday, June 02, 2004 7:21 PM
Subject: Help with translation of old family letters

Hi all,
Hoping that I might get some family info from these letters found by my grandmother and I. They were to her from her mother's cousins. Grandma cannot read Polish, and when she first got them a neighbor translated them for her. Thank you for any and all help.
Diane
(Please click on the photo to enlarge)
(Please click on the photo to enlarge)
(Please click on the photo to enlarge)
---
24. ANSWERED on genealogy forum! - www.genforum.genealogy.com/poland/
----- Original Message -----
From: Kris
To: narodowa@narodowa.pl
Sent: Friday, May 21, 2004 4:43 AM
Subject: Passenger list

This is a copy of my great-great grandparents passage to the United States, and I am wondering if anyone can translate the German. Any help would be greatly appreciated. I am new with the scanner, so don't know if the image will turn out OK or not. Thanks so much- Kris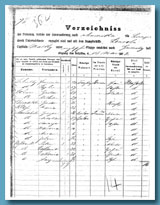 (Please click on the photo to enlarge)
---
23. ANSWERED on genealogy forum! - www.genforum.genealogy.com/poland/
----- Original Message -----
From: Anderson
To: narodowa@narodowa.pl
Sent: Sunday, May 16, 2004 12:04 AM
Subject: place name

Attached is my grandfathers birth certificate. I am searching for anything on his father. My question is the birthplace, it looks like Russ Poland, would that just mean Russia, or is there a place that looks something like it. I have my great grandfathers death certificate, but the birhplace just says Poland. Any help would be greatly appreciated.
Karen
(Please click on the photo to enlarge)
---
22. ANSWERED on genealogy forum! - www.genforum.genealogy.com/poland/
----- Original Message -----
From: "Norbert Stevens"
To: <narodowa@narodowa.pl >
Sent: Friday, May 14, 2004 3:16 AM
Subject: Eksponat do GAPY-- Translation of my Busia's Baptismal Record


Attached is an image from an LDS microfilm that I believe to be my
Busia/(Grandmother) Petronella Pietrzak's baptismal record. I would
appreciate help in translating the record to English. Thanks in advance.
Norbert Stevens

(Please click on the photo to enlarge)
---
21. ANSWERED on genealogy forum! - www.genforum.genealogy.com/poland/
----- Original Message -----
From: Derk, James (GE Advanced Materials)
To: narodowa@narodowa.pl
Sent: Wednesday, May 12, 2004 12:03 AM
Subject: Genforum

Hi… It was suggested I send these along. Can you tell what the scrawled words mean on this? Is his hometown listed?

Thank you!!!!

Jim
(Please click on the photo to enlarge)